TUESDAYS AT NORTH BEACH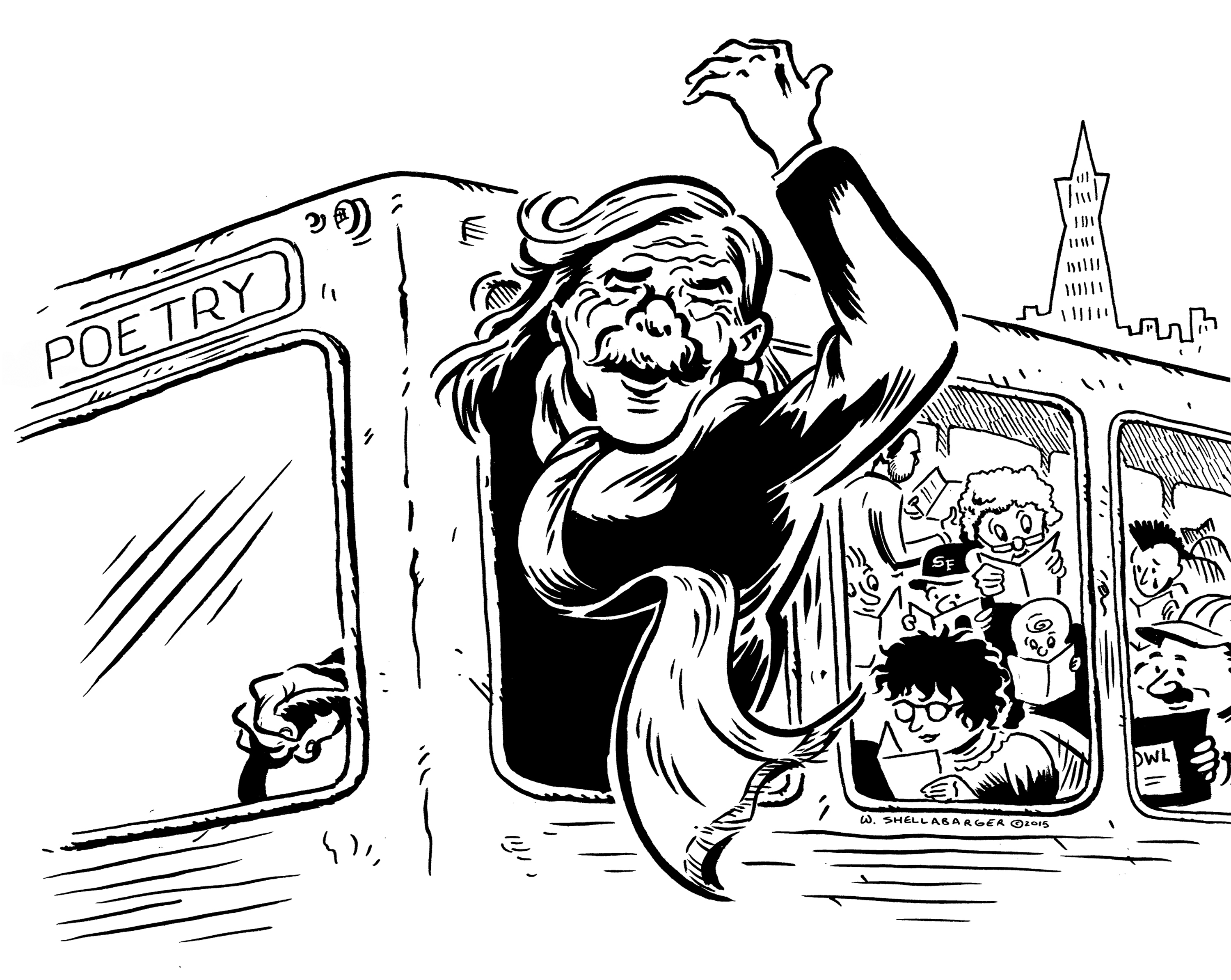 WHERE: North Beach Branch Library
WHEN: Every Tuesday at 6:30 p.m.
WHAT: Free poetry readings
Join us every Tuesday evening in the historic literary epicenter of San Francisco to hear poets from near and far read their work!
Tuesdays at North Beach is a highly-respected weekly poetry series celebrating internationally acclaimed poets and showcasing local talent. Past guests have included Jonathan Richman, Diane di Prima, California Poet Laureate Al Young and freshly-discovered poets from our sister program, Poets 11.

The series is presented by Friends and curated by Friends' Poet-in-Residence, Jack Hirschman. 
Interested in reading? Please contact Friends' Literary Director Byron Spooner at byron.spooner@friendssfpl.org or call (415) 522-8602.
Note: Tuesdays at North Beach is a curated reading. The participating poets are invited to read and the schedule is set up well in advance of the events. Only when a scheduled poet cancels too late to locate a substitute do we revert to an open reading format. 
For more information, and to view a list of all upcoming events, please visit our calendar of events. 
---
 TUESDAYS AT NORTH BEACH POETS
 2018 Lineup for Tuesdays at North Beach (PDF)
MARCH
13.  Gary Hicks & Genny Lim
20.  Aja Couchois Duncan & Mauro Zanetti
27.  Charif Shanahan & Agneta Falk
APRIL
  3   Rob Biederman & Silvi Alcivar
10   Brandon Loberg & Romeo Alcala Cruz
17   Lisbit Bailey & Kim Shuck
24   Jack Foley (with Sangye Land) & Virginia Barrett
MAY
  1   Andrena Zawinski & Rafael Jesus Gonzalez
  8.  Jim Normington & Heidi McGurrin
15.  Pireeni Sundaralingam & Michael Warr
22.  David Watts & Barbara Paschke
29.  Boadiba & Jami Proctor-Xu
JUNE
  5   Martin Hickel & Trang Cao
12   Carol Denney & Patti Trimble
19.  John Curl & Nadine Lockhart
26.  David Volpendesta & Dan Katz
JULY
  3.   Kevin Simmonds & Melba Abela
10   Jewelle Gomez & Bob Booker
17   Alejandro Murguia & Brenda Quintanilla
24   Toshi Washizu  & Sharon Doubiago
31.  Robert Anbian & Michael Koch
AUGUST
  7  Neeli Cherkovski & Chun Yu
14  Art Montecon & Devereaux Baker
21  Heather Bourbeau & Steven Gray
28  Jorge Molina & Julie Rogers
SEPTEMBER
 4   Mahnaz Badihian & Zaid Shlah
11  James Cagney & Jennifer Barone
18  Shirin Sadeghi & James Tracy
25  Anita Odena Cruz & Tony Robles
OCTOBER
  2  Stephen Kessler & Jeanne Powell
  9. Sarah Page & Clyde Always
16  Tongo Eisen-Martin & Cathleen Williams
23  Lynne Barnes & Pauline Craig
30  Stephen Kopel & Kristina Brown
NOVEMBER
  6  Karen Melander Magoon & Mauro Fortissimo
13  Bob Coleman & Tureeda Mikell
20. Rosemary Manno & Jeff Grossman
27  Adrian Arias & Gail Mitchell
DECEMBER
  4  Avotcja & Soheyl Dahi
11  Francisco Orrego & Jessica Loos
18  Alice Rogoff & Arnoldo Garcia