Click the banner below to learn more about Friends' 2017 Library Laureates Benefit Gala.

Michael Warr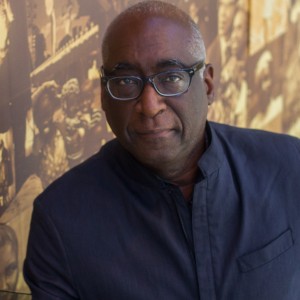 Michael Warr is the Poetry Editor of the anthology Of Poetry & Protest: From Emmett Till to Trayvon Martin (W.W. Norton and Company, 2016). Other books include The Armageddon of Funk (2011), Power Lines: A Decade of Poetry From Chicago's Guild Complex (1999), and We Are All The Black Boy (1991), all published by Tia Chucha Press. Recognition for his writing includes a 2014 Creative Work Fund award for his multimedia project "Tracing Poetic Memory in Bayview Hunters Point," 2012 PEN Oakland Josephine Miles Award for Excellence in Literature, 2012 Poetry Honor Award from the Black Caucus of the American Library Association (BCALA), the Gwendolyn Brooks Significant Illinois Poets Award, a National Endowment of the Arts Creative Writing Fellowship, and other honors. The Black Caucus of the American Library Association described The Armageddon of Funk as "A poetic soundtrack to black life." Of Poetry & Protest was described in Booklist as "magnetizing…" A frequent collaborator with musicians, visual and performing artists, Michael's poems have been dramatized on stage, depicted on canvas, and set to original music. He is the Deputy Director of the Museum of the African Diaspora, in San Francisco.
To learn more about Michael Warr, please visit his Facebook page by clicking here.
My Library Love Story, by Michael Warr
Poet Gwendolyn Brooks, the first Black writer to receive the Pulitzer Prize, was one of my childhood heroes. She was my Wonder Woman. As a teen, I first witnessed her super powers in the pages of a library book intriguingly titled Three Thousand Years of Black Poetry. I saw myself in "THE POOL PLAYERS" of her poem "We Real Cool." I possessed enough innocent arrogance after reading her words, that I thought to myself "I can do that." I trace my love affair with writing and libraries to that moment.
I left San Francisco for Chicago and had the privilege of befriending and collaborating with Gwendolyn Brooks. She gifted me my first award for poetry. I gained many letters from her with words punctuated in CAPS, triple underlined, with rows of exclamation points. I never told her that I was so moved on reading her poetry for the first time that I was compelled to steal that anthology. I often jokingly blamed her for my becoming a poet. It may be poetic justice that the book I stole was eventually stolen from me. I like to think another poet was birthed by her poem.