Click the banner below to learn more about Friends' 2017 Library Laureates Benefit Gala.

Lucha Corpi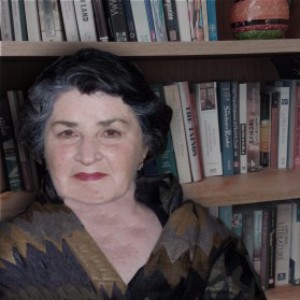 Lucha Corpi is an internationally renowned poet, novelist, and children's book author. She is the author of several mystery novels published by Arte Público Press: Death at Solstice: A Gloria Damasco Mystery (Sept. 2009), Eulogy for a Brown Angel (2002), Black Widow's Wardrobe (1999), Cactus Blood (1995), and Crimson Moon (Arte Público Press, 2004). Loa a un angel de piel morena (2012) is the pioneering first installment in the Gloria Damasco Mystery series now available in Spanish. Her poetry collection, reissued by Arte Público Press in 2001, is entitled Palabras de mediodía / Noon Words (2001).  A Piñata Books picture book for children, The Triple Banana Split Boy / El niño goloso was published in 2009. Most recently, Corpi has written a moving memoir, Confessions of a Book Burner: Personal Essays and Stories (Arte Público Press, 2014), that sheds light on the creative process, political activism and bilingual, bi-cultural life in the U.S. She is the recipient of numerous awards and citations, including a National Endowment for the Arts fellowship, the PEN Oakland Josephine Miles Literary Prize in fiction, and the Multicultural Publishers Exchange Book Award of Excellence in Adult Fiction. Corpi was a tenured teacher in the Oakland Public Schools Neighborhood Centers Program for over 30 years.
You can learn more about Lucha Corpi by clicking here.
A Tiny Hell's Bookroom: A Library Love Story by Lucha Corpi
"A tiny town can be and often is a big hell," my mother used to say about our tropical hometown in southern Veracruz. It had a population of about 2000 when I was born. People who tried to keep secrets in a small community like ours did so in vain. There were advantages to living in a "tiny hell," however, as I eventually discovered. When my brother Victor turned six, he had to start school. He stubbornly refused to attend unless I went with him every day. We were inseparable, but I was four.
My father talked with the principal and he agreed to let me attend school—illegally, of course—hoping that I would soon get tired and would want to stay home. I didn't get tired. I loved going to school. Sitting and doing the work quietly at a desk in the back of the classroom, I learned to love learning. I mastered first grade subjects. So I moved on with my brother to the second grade classroom, still as an illegal student.
Since I was too young, I did not participate in the children's games during recess or in after-school activities. Trying to find something to keep myself entertained while my brother enjoyed recess with his friends, one day I walked into a small room in the back of the principal's main office. There, school texts were laid on a cedar desk. In unlocked cedar cabinets with glass doors, other books with colorful illustrations were kept, to preserve them from mold, mildew and hungry insect larvae.
I opened the glass doors of the cabinet carefully. The smell of words inked on paper rose up my nostrils. I took in the distinct scent of each book, different from the odor of my school books and the newspaper my father read every day. My fingertips registered the terseness or smoothness of the pages and their covers. Although I could sound longer words out, their full meaning was still far beyond my comprehension at the time.
"¿Qué me quieres decir?" "What do you want to tell me?" I'd ask the words in the books in a whisper.  It hardly mattered the books couldn't respond. I had fallen in love with written language and with the books where the printed words resided, waiting for me to unlock their meaning, to learn their secrets. That bookroom became my favorite place.
Years later, my family and I moved to San Luis Potosí, a much larger city in central Mexico, where I received most of my formal education. The elementary school I attended was run by Catholic nuns. Yet it had a large library with texts on many scientific and literary subjects, including Greek and Roman mythology. Later, already in high school, I spent many hours in its library, and in other public and university libraries, looking for the answers to my many questions. In time, I immigrated to Berkeley, California, learned English and got my B.A. and M.A. Then moved to Oakland and went to work as a teacher there.
I've been to many libraries in Berkeley, Oakland and San Francisco, where I have conversed with Jung and Freud looking to discover the meaning of my dreams. Down the aisles of the U.C. Berkeley libraries and many bookstores in Mexico City, I have pursued Malintzin Tenepal, aka "La Malinche." She was the most maligned Native Mexican woman, who became the conqueror Hernán Cortés' "tongue." She translated native languages into Spanish and interpreted for Cortés the cultures that formed and informed them.  She smoothed the path to his victory over the Aztec Empire.  I would later write the "Marina Poems" dedicated to her.
I still ask what it is a book wants to tell me, just as I did as a child in the school's bookroom. Since then, I've had great conversations, In English and Spanish, with many characters, personalities, creative people, scientists, dreamers, writers, poets, artists, and scholars, because for me reading a book is engaging in a conversation with the authors on  one or many subjects. By reading others, I have answered for myself the basic questions a fiction writer must ask and answer--who, what, where, when, why and how--as she tells a story. First, to herself. Then as she writes it down for others to read in silence, in whispers, aloud, in dark corners or well-lit niches and chambers, in bed or easy chairs, or at the cedar tables or desks in the largest tiny hell's bookroom the human mind is.