Click the banner below to learn more about Friends' 2017 Library Laureates Benefit Gala.

Leticia Hernández-Linares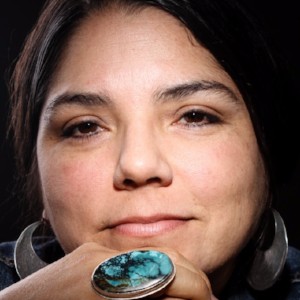 Leticia Hernández-Linares, a poet, interdisciplinary artist, and educator is the author of Mucha Muchacha, Too Much Girl, and co-editor of The Wandering Song: Central American Writing in the United States. Widely published, her work appears in newspapers, literary journals, and anthologies such as U.S. Latino Literature Today and Street Art San Francisco. She has performed her poemsongs throughout the country and in El Salvador, at venues such as the Smithsonian, Yale, Nuyorican Poets Café, The Guild Complex, SF JAZZ, and The Loft. Founder of an artist collaborative, Amate: Women Painting Stories, she has received grants from the Creative Work Fund, the Zellerbach Family Foundation, and the Center for Cultural Innovation. A three-time San Francisco Arts Commission Individual Artist, she serves on the CantoMundo Organizing Committee and teaches Latinx Creative Writing at SFSU.  She holds a B.A in English from Scripps College, an M.A. in English from the University Pennsylvania, and over the last twenty-five years she has designed and taught visual art and creative writing classes for all ages, and worked in education reform with various community based organizations and schools. An eviction fighter, she lives, works, and writes in the Mission District.
You can learn more about Leticia Hernández-Linares by clicking here to visit her website.
Library Love Stories: La biblioteca, by Leticia Hernández-Linares
La biblioteca. The library. The old wood of the drawers that stored the card catalog. Crisp yellowed pages of hardcover books wrapped in plastic. Stories of young girls, who traveled through time, became teachers, solved mysteries. Architectural design of old buildings housing individual branch collections. The library offered the magic of books and stories, just about anywhere––it was always a place I could depend on for so much. Long before you could type into a screen and find information within seconds, the library contained a vast treasure of questions and answers awaiting excavation.  
Two branches of the San Francisco library hold particular significance for me. When the Main Library opened its doors and unveiled five stories of possibility, I had recently begun to study for my graduate exams. I managed to find the majority of the books on my exam list in the public library system. The shiny modern new tables and desks embraced hours of my study. I so appreciated how I could keep up with my program from the University of Pennsylvania in downtown San Francisco, alongside a diverse crowd of San Francisco residents. It provided a bridge between my academic life and my community.
Over the next few years, my local branch in the Mission underwent renovation.  While work proceeded on this building that dates back to the early 1900's,  I loved visiting the temporary satellite on a top floor of the U.S Bank on Mission Street, with such a great view of the city.  Still in the middle of my graduate work, I marveled at how the Mission branch carried books my university library did not. In those days, I didn't imagine I would one day bring my own sons to various branches of the San Francisco libraries, and that they would learn and love to read, in both English y en Español, between their walls.
I am grateful for and continually inspired by the texture and smell and song books carry and how the library lends you book after book, as long you bring it back. Books have always served as my main mode of transportation, and libraries, my fueling stations. The most important thing the library has taught me is that books hold significance beyond their individual contents, and that the magic extends to the participation in a community of readers and the exchange of one good story for another.