Click the banner below to learn more about Friends' 2017 Library Laureates Benefit Gala.

Kara Platoni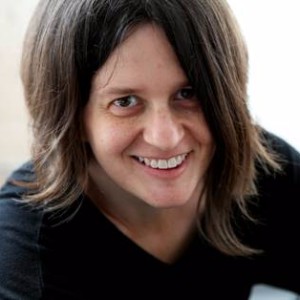 Kara Platoni is a science reporter who works the Nancy Drew beat, going anywhere there is a possibility of a weird adventure. For her book, We Have the Technology, she sofa-surfed through four countries and eight US states, visiting any lab, military base or biohacker basement that would let her get in on an experiment on the cutting edge of sensory science. She teaches narrative writing at UC Berkeley's Graduate School of Journalism and was a long-time staff writer for the East Bay Express.
You can learn more about Kara Platoni by clicking here to visit her website.
My Library Love Story, by Kara Platoni
My library love story is really a story about my mom, Alexis Platoni.
Before she retired, my mom was a teacher and librarian for her whole career. She worked for the public school and library systems, alternately as a special education and resource teacher, as an elementary school substitute, and as a fill-in librarian. That meant she always knew the best books. One of my favorite childhood memories is of going to the library with her, where she'd point me towards something new (The Boxcar children, the Green Knowe series, the Half Magic books, The Chronicles of Narnia, The Westing Game, From the Mixed-Up Files of Mrs. Basil E. Frankweiler, Bridge to Terabithia, The Island of the Blue Dolphins—I mean, basically any book about kids who outsmart the world and live a life of adventure suspiciously devoid of parents) and then she'd go off to do her own thing. We'd meet up at the desk an hour later with our massive piles of books, and once home I'd hole up in my bedroom and evaporate into words until dinnertime.
I mean, the system had its flaws. It is, perhaps, possible to be too avid about books. There was the dreadful year that my sister and I were convinced that the giant box under the Christmas tree was a much-coveted Barbie Dream House and it turned out to be an encyclopedia. My parents and I spent most of my elementary years in a cat-and-mouse game in which I would try to stay up all night reading by the nightlight, and they would try to get me to cut that out. There was a short period of time in which they made me get dressed for school in the bathroom, because I could not be left to my own devices in my book-packed bedroom. (Did you know you can hide books in the bathroom? You can! If your parents figure that out, just spend the whole morning reading the back of the shampoo bottle.)
But I've always liked to think that if you put enough words in, eventually the words start coming back out. For me, the idea of being a "writer" started somewhere around the third grade, which was around the same time as Terabithia and Narnia and the thing-that-turned-out-not-to-be-a-Barbie-Dream-House. The way you teach kids to love books is by giving them books to love, and then by not killing them when they read those books in the most obnoxious way possible. So thank you, mom, for giving me the library. And by "library," I mean "everything."