Click the banner below to learn more about Friends' 2017 Library Laureates Benefit Gala.

Judy Juanita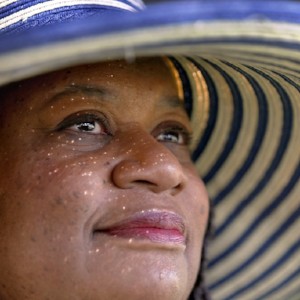 Judy Juanita's collection of essays, DeFacto Feminism: Essays Straight Outta Oakland (EQUIDISTANCE Press, 2016) looks at the gap between black and female empowerment. Her novel, Virgin Soul, was published by Viking Press in 2013; its protagonist joins the Black Panther Party in the sixties in the San Francisco Bay Area. Her poetry and fiction have appeared in 13th Moon, Oakland Noir,  Uprooted: An Anthology on Illness, Tartts Seven, Poetry Monthly, LIPS, Painted Bride Quarterly, Crab Orchard Review, Croton Review and Obsidian II; her plays have been produced in the Bay Area, LA, and NYC. Her collection of short stories, The High Price of Freeways, was a finalist in the Tartt First Fiction contest in 2013 and 2014. She earned an MFA in creative writing from San Francisco State University and has taught writing at Laney College since 1993.
You can learn more about Judy Juanita by clicking here.
My Library Love Story, by Judy Juanita
Allwood, a physics major, worked at the branch library near campus. Allwood had dropped out of school for a year to read a thousand books. Supposedly, he was a heavyweight and wanted to get even heavier. So I shanghaied this Allwood guy at the tiny branch library where he was shelving books.
"Can you find me a really good novel?" I said, staring at his angry black pupils with as much sophistication as I could muster, and thinking what a pretty beard he had.
"Have you ever heard of James Baldwin?"
"I might have," I said. "I have this thing of remembering everything I read but I forget the names unless they're really odd, you know."
He knew all right and laughed which I thought was my accomplishment.
"Here," he shoved Another Country at me. "Read this," he said and pointed to the teenage bookshelves. "And don't get any more books from that section."
I read it that night, the next day and half the next night. Reading it made the inside of my body stretch into a taut muscle. Rufus and his sister made me feel stronger, earth bound and sky swept at the same time. The only things that mattered after I finished the book were love and hate, living and dying. My specialty, my major in life, i.e. newspaper reading and books, was tragedy. I couldn't keep away from it. Another Country felt like the world of love, hate, living and dying compressed between my hands. (excerpted from Virgin Soul)