Click the banner below to learn more about Friends' 2017 Library Laureates Benefit Gala.

Jorge Argueta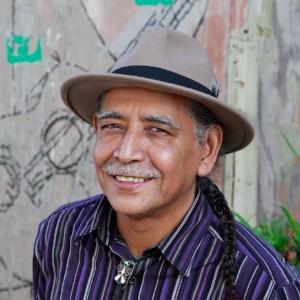 Jorge Tetl Argueta is a celebrated Salvadoran poet and writer whose bi-lingual children's books have received numerous awards. His poetry has appeared in anthologies and textbooks. He won the America's Book Award, among other awards, for his first collection of poems for children, A Movie in My Pillow. He was the Gold Medal Award winner in the 2005 National Parenting Publications Awards (NAPPA) for Moony Luna/Luna, Lunita Lunera. His other works for children include Xochitl and the Flowers, 2003 America's Award Commended Title, Trees are Hanging from the Sky, Zipitio, Talking with Mother Earth, The Little Hen in the City and The Fiesta of the Tortillas. A native Salvadoran and Pipil Nahua Indian, Jorge spent much of his childhood in rural El Salvador.
You can learn more about Jorge Argueta by clicking here to visit his website.
All Libraries Are Libraries of Dreams, by Jorge Argueta
In 1980, El Salvador's national guard was conducting house searches in neighborhoods and colonias of San Salvador, the capital. My family and I lived in the working-class neighborhood of San Jacinto. I was a high school student. In my house we had things that were considered subversive propaganda: posters of Che Guevara and Fidel Castro, a few books of poetry: Pablo Neruda, Sor Juana Inés de la Cruz, dictionaries, and some magazines.
For fear that our house be searched and we would be arrested, imprisoned, at worst even murdered, as happened in those years, my sister asked my cousin Alfredo, who lived in another village, to take the posters, magazines, and books and burn them all.
That same year, fearing for my life, I fled the country, came to San Francisco California, and joined in the bohemian life. It was without a doubt the most joyful way to withstand sadness and loneliness. I became part of the cultural life of the city, and met poets and writers.
One day a poetry reading took me to the public library in San Francisco. I remember standing there with goose bumps from head to toe when I saw the books on their shelves, books in English and Spanish, books for young people, for adults, for children, dictionaries, posters, photographs. I remembered my books there in El Salvador and how they had been burned, and I felt a deep sadness.
Last year, 35 years after of the incident with my family's books, A Movie In My Pillow, one of my children's books, gave me the huge surprise: I received enough royalties to travel to my country and build a library in my neighborhood, something I had always dreamed of. This was so appropriate, I thought, because my book is biographical, telling the story of a child who flees the war in El Salvador, a book that talks about his dreams and his efforts to adapt to a new life far from his country. The same day that I received the royalties, I bought my ticket to El Salvador. I also called my cousin Alfredo, who over the years had become a master bricklayer. "I'm coming tomorrow," I said. "We're going to build a cottage, a library, and we'll call it the Library of Dreams." The next day he was waiting for me, and that same morning we went and bought material to begin construction.
When we were on the piece of land where the library was going to be built, my cousin said:
"Look, Jorge, I have something to tell you. Years ago, out of fear you would all be killed, your sister begged me to burn all the books and posters. The posters I buried somewhere around here, where we are going to build this library for the children. The books I took to my house in the village, and with these books I taught myself to read and write, and with these books I taught my children to read and write, too. Books are a good thing. We shouldn't destroy them," he said. We laughed and began to build what is now The Library of Dreams.