Click the banner below to learn more about Friends' 2017 Library Laureates Benefit Gala.

Carolina De Robertis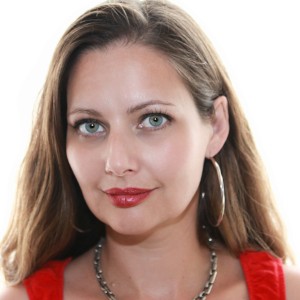 Carolina De Robertis, a writer of Uruguayan origins, is the author of The Gods of Tango, Perla, and the international bestseller The Invisible Mountain. Her books have been translated into seventeen languages. She is the recipient of Italy's Rhegium Julii Prize, a Fellowship from the National Endowment for the Arts, and numerous other honors. She is an award-winning translator of Latin American literature, and editor of the new anthology Radical Hope: Letters of Love and Dissent in Dangerous Times. She teaches fiction and literary translation at San Francisco State University, and lives in Oakland with her wife and two children.
You can learn more about Carolina De Robertis by clicking here to visit her Facebook page.
My Library Love Story, by Carolina De Robertis
When I was ten years old, my family arrived in the United States, and the neighborhood library was a revelation. All those books! Free to borrow! For all my immigrant-kid disorientation, that was one place that never failed to feel like home. Or maybe more than home: I felt like I'd stumbled into a new kind of heaven. Already, back in Switzerland, as a foreign kid in a xenophobic environment, I had taken refuge in books and discovered their power to transport, connect, ignite, expand possibilities, unfold the depths of who you are. Now, in California, I started by devouring the entire shelf of Louisa May Alcott books. Then, overwhelmed by all the choices, I stuck to the A's and went for a volume by a writer called Jane Austen. I now know that Pride and Prejudice went almost completely over my head, but it didn't really matter: I took the magic carpet ride, and I was hooked.
After that, it was thanks to the public library that I read a book a week in the summer, bringing them home in towers under which I tottered, thrilled, almost drunk with excitement. I wouldn't be a writer today without my years-long torrid love affair with libraries. Today, my family trips to the local public library with my wife and children are among the most beloved excursions we take. Forget Disneyland. We've never gone. We have no need of it. It is public libraries, with their unflagging devotion to the commons, to communities, and to the written word, that deserve to be called the happiest places on Earth.